Swiss Leadership Camp
"THE MOST AMAZING SCHOOL TRIPS FOR INTERNATIONAL SCHOOLS"
THE ULTIMATE CAMP EXPERIENCE
Residential Camps in the heart of the Gstaad Valley all year round! The first choice for adventure camps, school trips, and student leadership training in Switzerland. 
Our school trips offer students a truly transformative camp experience that allows them to discover themselves, collaborate effectively in a team, and become better communicators while connecting with nature.
Each year our camp hosts school groups from every continent: Asia, the Middle East, Europe and the Americas, providing a meaningful and rewarding experience with learning outcomes that are carefully tailored for each school and curricular system.
With a varied set of positive learning dispositions, we developed unique activities in the glistening mountains, lakes and forests that surround our campuses. Each day, students participate in fun and challenging activities that encourage everyone to step outside their comfort zone and enjoy themselves. Through outdoor experiences, team activities and hands-on adventures like rock climbing, mountain hiking, canyoning, and rafting, students will learn and practice essential leadership skills such as goal setting, time management, and conflict resolution.
In our leadership programmes, we design and implement fun experiences with constant feedback, reflection, and group evaluations that emphasise developing leadership skills and teamwork through a variety of experiential outdoor activities. 
A bespoke leadership experience for schools
Our programme is designed to meet school community needs. This means that you can choose a trip for any number of days, and select the leadership modules, learning outcomes and activities. We can fully tailor the programme to your preferences and can offer any leadership module from our extensive portfolio. Programmes can be shorter or longer depending on the school request. 
School Camps are offered all year round and are designed based on:
Your preferred length of programme (2-8 days or more).

Your preferred season, month or dates. 

We can welcome groups ranging between 20 and 150 students.

One grade level or multiple at the same or a different campus.

Preferred learning outcomes to focus on and outdoor activities that best fit your students.
TALK TO OUR EXPERTS
Contact us to learn more about a camp tailored exclusively to your school.
A unique learning experience to master 21st century skills
Your school community gets to choose a custom programme tailored to your school's vision, needs, preferences, and budget, including exciting outdoor activities such as:
Rock Climbing

Mountain Expeditions & Overnight

Bushcraft & Forest Games

Mountain Hiking & First Aid

Glacier Visits & Winter Outdoors

Navigation and Orienteering
Forest Games & Challenges

Seasonal activities (e.g. canyoning, cross-country skiing etc.)
We can offer a variety of leadership modules from our portfolio of training modules that we developed together with some of our partner schools.
Leadership topics can include: 
Goal setting

Time management

Optimisation

Communication

Teamwork

Conflict resolution

Global Citizenship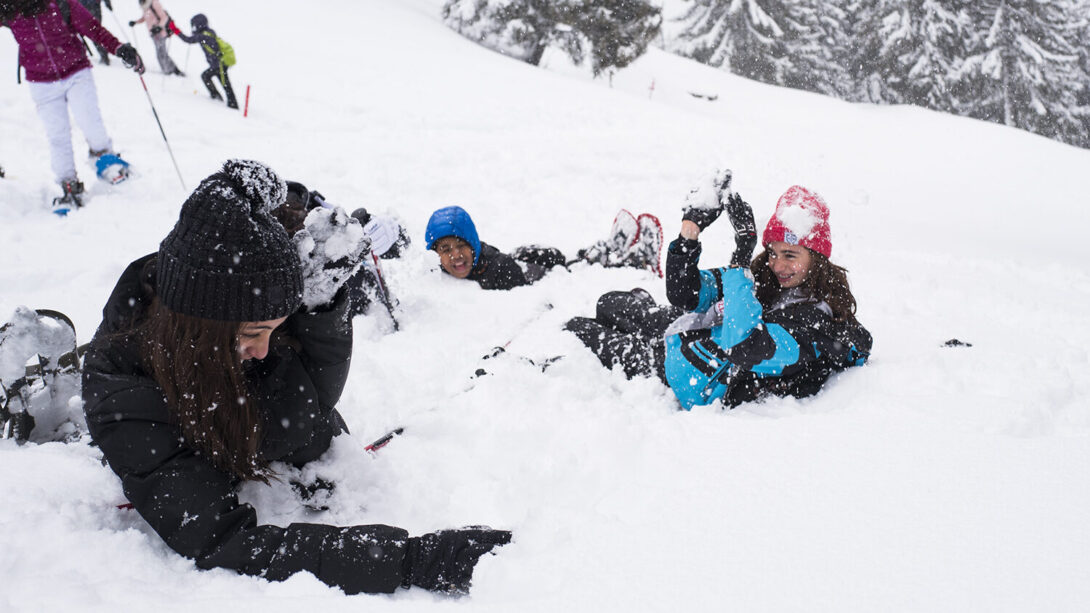 Seasonal Special Activities 
Enjoy every season to the fullest with amazing outdoor activities!
We offer a variety of exciting programmes and one-of-a-kind outdoor adventures year-round, so you can get the best of every season. At its finest, our learning experiences are an artful blend of core academic exploration, hands-on activities, skill-building, sports and outdoor experiences enhanced by a natural environment that helps flourishing social-emotional development and meaningful relationships.
Winter Exclusive Activities:
Snowshoe Hike
Alpine Ski & Snowboarding
Cross-Country Skiing
Sledding Building & Racing
Ice Skating & Curling
Avalanche Rescue Training & Ice Climbing
Summer and Spring Exclusive Activities:
Water Sports at the Lake
Via Ferrata
Canyoning
Adventure Park
Alpine Roller Coaster
Bridge Swing
Learning Outcomes
Our unique portfolio of Student Leadership Series are developed in partnership with some of the finest international schools and can be offered at your school as a one- or multi-day training or at our Swiss Leadership Camp as part of an exciting and constructive school trip with measurable learning outcomes.
As well as having fun, the key learning outcomes achieved by students who participate in our camps and workshops can be described as follows:
Learning skills
Use effective strategies for learning and study including personal learning styles and study skills to unlock their true-selves and maximise their potential while taking responsibility now and in the future.
Communication and interpersonal skills
Enhance communication skills in the areas of public speaking, presentations, media training, effective conflict management and university applications and interviews.
Time management and leadership
Manage time and resources effectively by setting short and long term goals, make constructive choices and learn everyday by effective self-evaluation.
Teamwork
Develop personal talents, use specific roles in a team, motivate members of the team and create synergy while achieving results.
A typical day: Each day brings something exciting and new!
Students connect with others by exploring other people's perspectives, which fosters personal growth, communication and friendship.
Students get to enjoy invigorating days out in nature while hiking, learning bushcraft techniques and first-aid procedures. The right opportunities are provided by team challenges, group discussions and leadership modules for developing problem-solving, communication, creative thinking, and wellbeing skills.
These thought-provoking presentations lead to lively discussion sessions amongst students, which are interspersed with outdoor action-packed challenges and tasks. Each day brings something new and exciting!

An example of a typical day:
8:30 Healthy and varied breakfast at campus

9:00 Introduction & Team Building Games

10:00 Leadership Workshop sharing a learning skill

10:20 Experiential Games to practice above skill

12:00 Lunch Break

13:00 Outdoor Activity off campus: Canyoning or High Ropes Park

17:00 Leisure Time

19:00 Dinner

20:00 Evening programme: Campfire & Musical Workshop

.
Leadership School Camps in Switzerland
Book a call today to discuss a customized program for your school